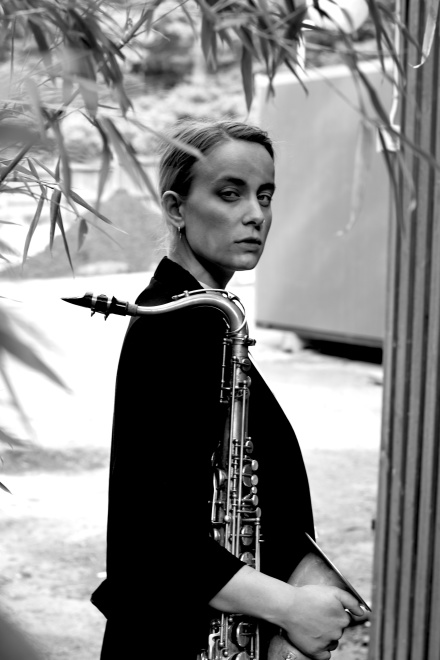 "Malin Wättring must be one of Swedens leading saxohonists".
Anders Lindén

"One of Sweden's major new saxophonists and composers" Jan Granlie - Salt & peanuts

My name is Malin Wättring and I work as a professional musician, composer, arranger and teacher. I live Gothenburg, Sweden and I'm working within the field of modern jazz, free improvisation and alternative music. My main instrument is saxophone. I mostly play tenor & sopran sax but also baritone & alto sax and clarinet.

I lead my own group, Malin Wättring 4, sience 2012. I also have a solo project where i sing, play the guitar. I am a band member of William Soovik Grande Finale, Susanna Risberg Vilddjur Septett & Lighthouse. I have worked with bands and artists such as Bohuslän Big Band, Fire! Orchestra, Anna Högberg Attack, Nils Landgrens Jazz Baltica All Star Big Band, Ann-Sofi Söderqvist Jazz Orchestra, Euroradio Jazz Orchestra, Tonbruket, Susanna Risberg trio, Ensemble Makadam, Black Dough, Jag begär bara havet, Lovisa Samuelsson, Amanda Andréas, Flocken, Kosmic Sounds, Black Dough and many more.
I teach music and I give individual as well as ensemble lessons. I give workshops, for example on the subjects improvisation and composition. I've teached beginners as well as students at the Academy of Music & Drama in Gothenburg.

I'm a KRI-certified kundlini yoga teacher and I give classes and private lessons. This yoga form is a very good complement for my work in music, it strengthens the body, it developes my breathing and my focus. For more info, click here!

Love//Malin
2010-2014 Academy for Music & Drama - improvisation, saxophone. Bachelors degree
2008-2009 Fridhems folkhögskola - Jazz programme, saxophone
2007-2008 Fridhems folkhögskola - Jazz programme for female instrumentalists, saxophone
2003-2006 Lerums Gymnasium - Music programme, saxophone

2021
Konstnärsnämndens arbetsstipendium
2019
Stenastiftelsens stipendium
Musik i Lerums stipendium
2018
Konstnärsnämndens arbetsstipendium
Västra Götaland regionens kulturstipendium
Bengt Säve-Söderberghs stipendium
Längmanska stiftelsens stipendium
2017
Composer of the year at the swedish national radios Jazzkattengala Konstnärsnämndens arbetsstipendium
2016
STIM-stipendiet
SKAP-stipendiet
Nominated for Composer of the year at the swedish national radios Jazzkattengala
2015
Konstnärsnämndens arbetsstipendium
Nominated for newcomer of the yeat at the swedish national radios Jazzkattengala
2014
Willinska Stiftelsens stipendium
2012
Lerums Kulturstipendium
IRIS stipendiet
My funny valentine - Tribute to Sinatra med John Martin Bengtsson & Gothenburg Wind Orchestra November 2019

Dancer - for Jazzkattengalan i Sveriges Radio Oct 16 2018 (10 min)

Tänker på dig - Linnea Henriksson & Gothenburg Wind Orchestra April 2018 (arrangement on Linneas song)

Harvest - Malin Wättring 4 & Bohuslän Big Band. (60 minutes music) This comission became the album Harvest

VICC, Visby International Centre for Composers
Oct 29 - Nov 5 2018

SKAP, Almunecar
Sept 4 - Sept 11 2018

SKAP, Almunecar
Nov 21 - Dec 05

VICC, Visby International Centre for Composers
Sept 12 - 26 2016

VICC, Visby International Centre for Composers
April 18 - 25 2016